When it comes to oil changes, there are hundreds of options in Calgary, from your local quick lube to the dealership where you purchased your car, truck or SUV. So why, when faced with so many options, should you visit Venture Motorworks for your next oil change? Let us share with you what we feel sets us apart.
1. Premium Quality Motul Synthetic Oil or Mobil 1 Synthetic Oil
We utilize top-tier Motul and Mobil 1 synthetic oils with the proper factory specifications for your year, make and model (i.e. VW 505 01, MERCEDES-BENZ 229.52, BMW LL-04, Ford M2C 917 A, GM Dexos2).
Motul Oil
Motul has made a name for itself in motor racing including the world rally championship and endurance racing events, such as the 24 Hours of Le Mans. If they can make oil to stand up to those harsh conditions, we believe they can stand up to our morning commute or weekend getaway.
Mobil 1 Oil
Mobil 1 is world renowned, and Mobil has been producing synthetic motor oils for more than 40 years. Mobil 1 is the factory fill for numerous performance makes and models including Porsche, AMG-Mercedes, Chevrolet Corvette, Bentley and the Nissan GT-R. They have been around in motor racing for years, and most major racing leagues in one way or another.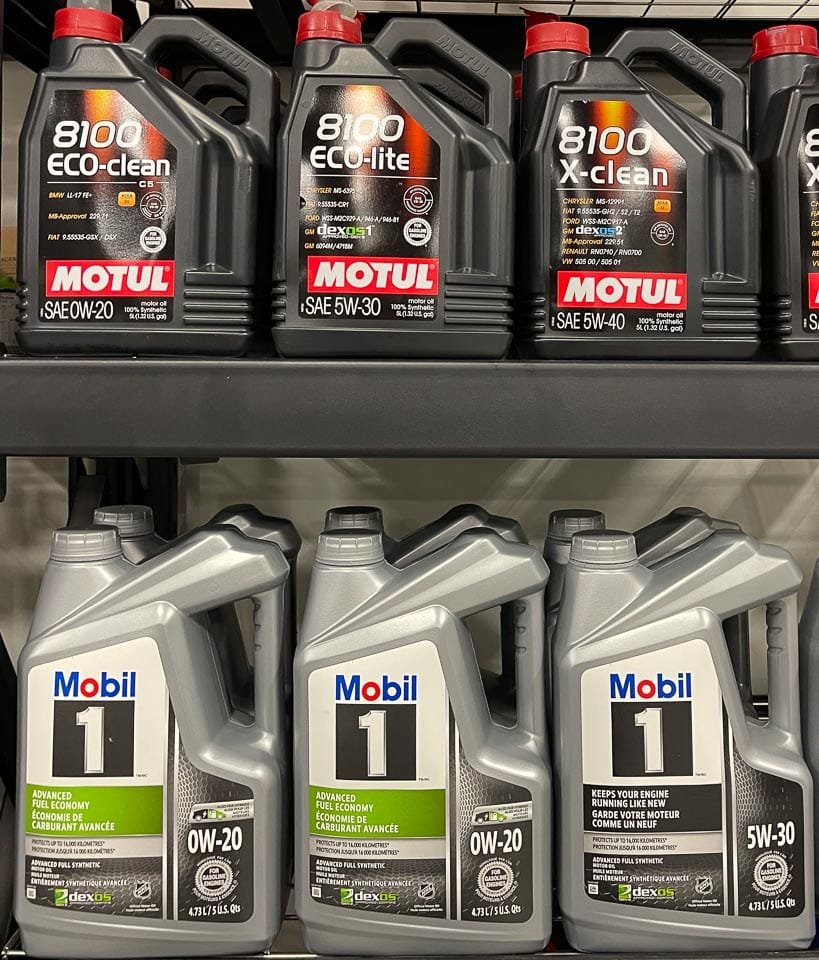 Why We Don't Use Recycled or Cheap Oils
Many oil change providers use low quality and even recycled oil in customer vehicles. The recycled oil is processed waste oil from automotive and industrial businesses. This waste oil often contains metal particles, coolant and other fluids, which businesses pay to properly dispose of. This mixture of oil and other products is then repurposed into oil and sold to automotive shops for a fraction of the price of a quality motor oil. We strongly support the recycling of oil for other purposes. However, we believe the oil we put in our vehicles should be the best quality motor oil as it protects the engine. Top-tier motor oils, such as Motul and Mobil 1, are designed to prolong the life of the engine and we fear that lesser quality oils could reduce the operating life of your vehicle as the producers dont have the same exacting standards.
2. OEM Oil Filter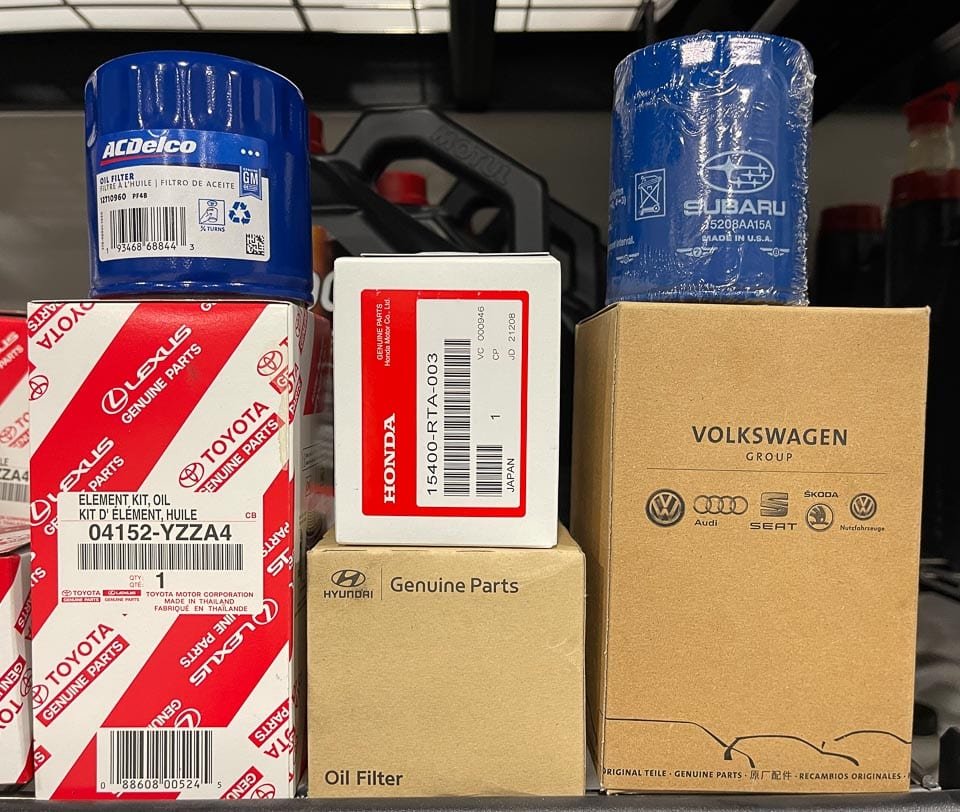 We use OEM filters either direct from the manufacturer or from the 3rd party parts supplier that provides the filters to the manufacturer. (i.e. we use either a Toyota or Denso oil filter for Toyota and Lexus, we use a VW, Mann or Mahle filter for VWs and Audis, etc.) With every oil and filter change, we also change the crush washer to minimize the risk of oil leaks from the drain plug washer.
Why We Use OEM Oil Filters
Lower quality filter media doesn't filter the oil as well and can shed fibers that flow into the engine, negating the whole purpose of having an oil filter;
Aftermarket oil filters use generic bypass valves, rather than valves designed specifically for your engine. The purpose of the bypass valve is to ensure the engine is getting sufficient oil pressure. If the bypass valve is too restrictive, it can prevent sufficient oil pressure from getting to the engine when the filter media is clogged or is simply of a low quality and cannot keep up with the oil flow. If the oil pressure is too low, it can result in excess wear on the engine sometimes leading to catastrophic failure. Alternatively the bypass valve can be too weak and allow too much oil to bypass the filter, resulting in oil not being filtered, again negating the whole purpose of the oil filter.
Aftermarket oil filters can sometimes lack a proper check valve that stops the oil from draining out of the oil filter housing after the vehicle is shut off. This means it takes that much longer for oil to get to the critical components of your engine on startup, as the oil pump now needs to refill the oil filter before pushing oil through the engine. This can increase wear on the engine.
3. Complimentary Digital Visual Inspection
With every oil change, we provide a comprehensive visual inspection that will help identify any potential areas of concern with your vehicle. This inspection typically covers off all the items that automotive manufacturers recommend be completed with each oil change. We provide this inspection electronically and can either text or e-mail it straight to your mobile phone. Each inspection will include photos or videos of any potential areas of concern so you can see the issue and feel confident in our technicians' recommendation.
Why we perform a visual inspection with every oil change
We perform a visual inspection with every oil change as a lot can happen to a vehicle in a short period of time. We have extreme weather here in Calgary, and by completing a visual inspection with every oil change we are more likely to catch issues before they become major problems, which can save you money. Furthermore you have a better idea of the current condition of your vehicle and when larger maintenance expenses will be upcoming so you can plan accordingly.
4. We Follow the Manufacturer's Maintenance Schedule
Every automotive manufacturer has a detailed maintenance schedule for your vehicle, setting out oil change intervals, when you should replace spark plugs and timing belts, and when certain components should be inspected for potential wear and tear. Unless we have a good reason not to, we always recommend following the manufacturers' maintenance schedule. Most dealerships and automotive repair shops have their own generic inspection schedule that they recommend you follow, which often involves unnecessary services that cost you money, and which are not always relevant to your vehicle.
Why we follow the manufacturers maintenance schedule
We follow the manufacturers maintenance schedule as each vehicle is designed differently, with different service intervals for different components. For instance, certain modern vehicles with iridium spark plugs are now able to go 196,000 km on a set of spark plugs with no issues, yet some vehicles require spark plugs before 100,000 km. Alternatively some vehicles such as turbo Subarus require an injection service every 60,000 km or they may begin to experience issues.
5. We Don't Sell Unnecessary Work
We don't underprice our oil change prices and we don't fabricate work on your vehicle to break even. We hear stories all the time about customers who have gone for a cheap oil change and have been told that they need extensive repairs. In reality they don't require these repairs, it is just the way the mechanic is trying to recover the loss they incurred on the oil change.
Similarly, we hear stories and have experienced situations ourselves, where dealerships unnecessarily upsell work. Frequently, customers bring their vehicles to us after they have been told by large, well-known dealerships that they need to replace their brakes, and we find that they have over 50% brake life remaining. Recently, we saved a customer $550 by not doing the brake job recommended by a Ford dealership as the pads and rotors had lots of life remaining. These sort of things happen because the mechanics at dealerships are paid by the job, and only paid for the jobs they complete, so they have a personal incentive to upsell you expensive additional services you don't necessarily need. Similarly, the service writers are typically paid a bonus based on the work they are able to upsell customers. At Venture Motorworks, we do neither of those things. All our staff are paid a salary so they never need to unnecessarily upsell work.
6. Convenient Central Calgary Location
Located at 416 28 Street NE in Calgary we are located less than 10 minutes from downtown Calgary in the Franklin Park Centre near Let's Bowl. Our location has good access to Barlow Trail, Deerfoot Trail, Memorial Drive and 36 Street NE. We are located only a couple of minutes from Marlborough Mall, and only 8 minutes from Sunridge Mall.
7. We Take Our Time and Do the Job Right
We don't rush through oil changes as quickly as possible. As a result, you will have to spend a bit more time with us, but we also don't have mechanics damaging vehicles by using impact wrenches to put on oil pan drain plugs and skid plate bolts. We see vehicles come all the time where bolts are stripped out because the last mechanic they visited used an impact wrench to over tighten them. Recently, we even saw a Honda Odyssey come in with a Nissan oil filter installed.
8. Comfortable Lounge to Wait
To help pass the time, we provide our customers with a clean and comfortable lounge with a fresh bean to cup espresso machine, snack bar, comfy chairs, television and free Wi-Fi. You can enjoy a complimentary snack with coffee, tea or a fancy latte while you read, browse the internet or watch TV. There are very few independent auto mechanic shops in Calgary that offer the same experience.
9. Customer Shuttle Van
We offer a local shuttle service to downtown Calgary and the surrounding communities including Marlborough Mall, Sunridge Mall and the Franklin and Marlborough C-train stations during your oil change. For longer services, we are also able to drop you off anywhere within city limits.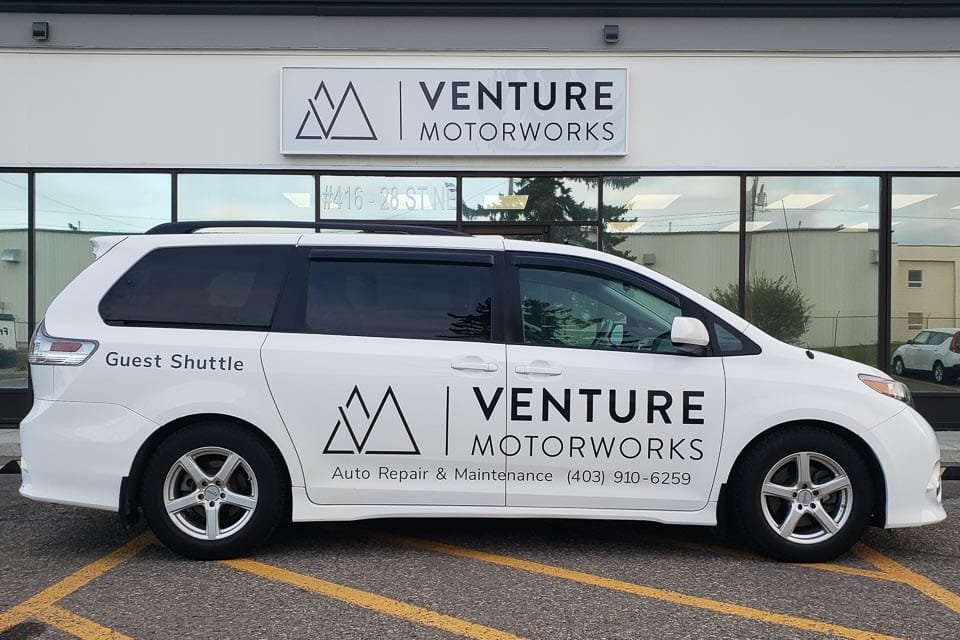 10. We Wash Your Car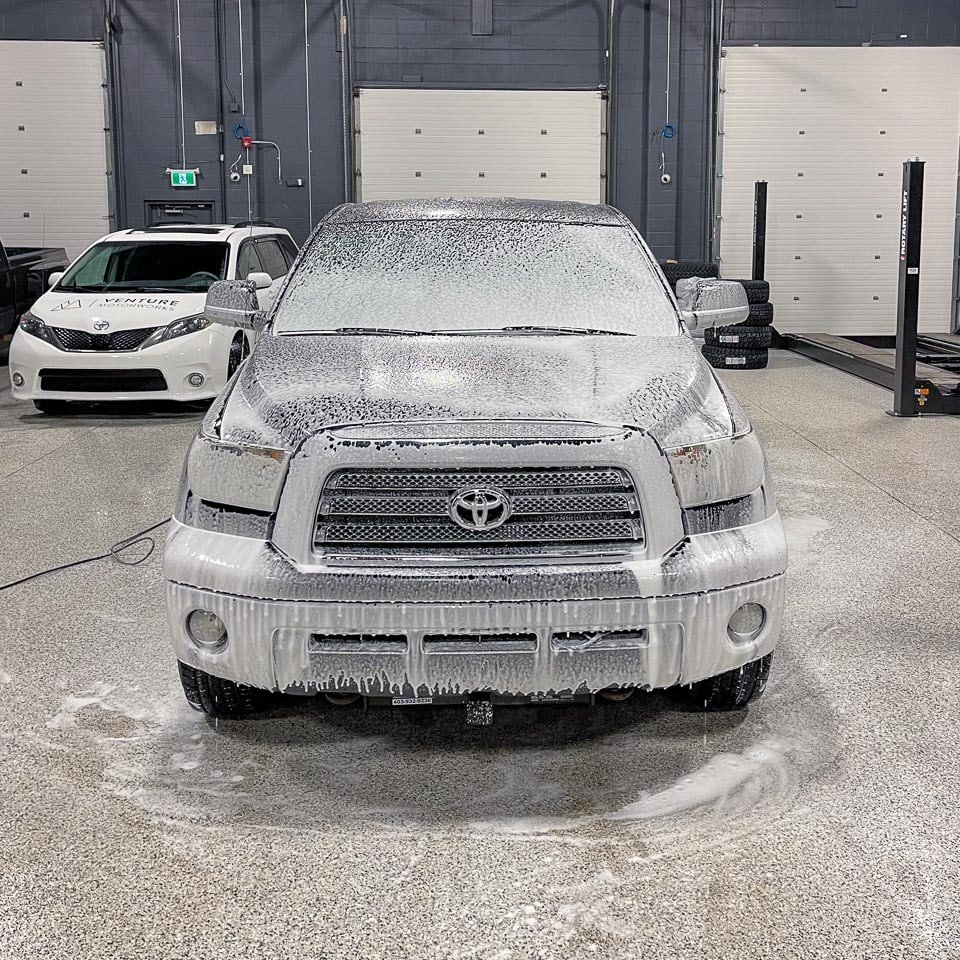 Remember when you used to take your car to the dealership and they would wash your car? At Venture Motorworks that still happens. We provide a touchless pressure wash to every customer, who books in for a service, and for an additional fee, we will hand wash and dry your car as well.